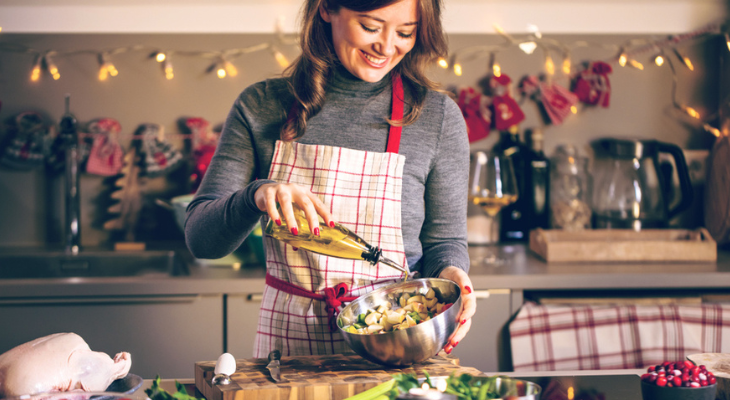 Delicious Recipes That Are Healthy for Your Eyes
Poor eating habits can increase your risk of developing cataracts, glaucoma, and age-related macular degeneration. Fortunately, adding one or more of these healthy recipes to your meal rotation could help you reduce your risk of these eye diseases.
Healthy Vegetable Dip
Raw vegetables make excellent appetizers and offer important health benefits for your eyes. Peppers and tomatoes are high in vitamin C and could help lower your risk of cataracts. Carrots contain beta-carotene and vitamin A, nutrients that offer protection from infections, dry eye, and night blindness. Love squash? Lutein and zeaxanthin in both yellow and green squash may protect your eyes from the harmful effects of the sun.
Although raw vegetables may be healthy, the dip you use might not be. Dips made with melted cheese or full-fat sour cream and mayonnaise can be high in calories and unhealthy fats. The next time you make a dip for your vegetable tray, use low-fat Greek yogurt as the base.
Stir one or more of these ingredients into 8 ounces of Greek yogurt:
Garlic or Onion (Raw or Powdered)
Cayenne Pepper
Chili Powder
Cumin
Paprika
Apple Cider
Vinegar
Lemon or Lime Juice
Parsley
Dill
Thyme
Hasselback Sweet Potatoes
Elegant Hasselback potatoes offer a tasty alternative to boring side dishes. Thin cuts made in a whole potato allow seasonings to penetrate every surface of the vegetable while it bakes. Although Hasselback potatoes are traditionally made with white potatoes, there's no reason you can't use healthier sweet potatoes instead. Like carrots, sweet potatoes contain both beta-carotene and vitamin A.
Follow these steps to make Hasselback sweet potatoes:
Preheat the oven to 400F.
Wash and dry four sweet potatoes.
Cut a series of thin slices in the sweet potatoes about 2/3 through the potato (Don't cut through the entire potato.)
Fan open the slices and brush them with this mixture: 1 tablespoon melted butter, 1 teaspoon olive or canola oil, 1/2 teaspoon garlic powder and 1/2 teaspoon parsley.
Lightly sprinkle the potatoes with salt and pepper.
Bake for approximately 50 minutes to 1 hour or until the potato slices are crispy on the outside and soft inside.
Note: The thickness of the slices will affect baking time. The thinner the slices, the quicker the potato will bake. Food Network recommends serving the potatoes with a sauce made of 1/3 cup of non-fat Greek yogurt and 1 chopped scallion.
Spicy Baked Salmon
Salmon, along with mackerel, tuna, herring, trout, halibut and other cold-water fish, are high in omega-3 fatty acids. These acids are essential for a healthy retina and may improve tear production and reduce inflammation in the eye, according to the American Optometric Association. Eating baked salmon provides an easy way to include omega-3 fatty acids in your diet.
Preparing a delicious baked salmon entree is as easy as following these simple steps:
Preheat the oven to 400F.
Remove four salmon fillets from the refrigerator and allow them to rest on the counter for 10 minutes.
Spray olive or canola oil over the bottom of a shallow baking pan or line the pan with parchment paper.
Mix 3 tablespoons of olive, canola or avocado oil with 1 1/2 teaspoons of minced garlic or diced onion.
Add 1 to 1 1/2 teaspoons each of chili powder, paprika and dill to the mixture.
Spread the mixture evenly over the fillets with a basting brush. Place the fillets skin side down on the prepared baking pan.
Bake for 12 - 20 minutes. Baking time will depend on the thickness of the fillets. The salmon is done when the fish flakes easily. The U.S. Department of Agriculture recommends baking salmon to an internal temperature of 145F.
If you prefer a crusty finish on your salmon, place the fillets under the broiler for three or four minutes after baking. (If you add this step, decrease the baking time slightly to prevent the salmon from becoming overdone.)
Prefer your salmon less spicy? Substitute thyme, parsley, fennel, rosemary or coriander for the chili powder and paprika.
Healthy eating, in addition to regular visits to the optometrist, will help you protect your vision. Ready to schedule a visit with the eye doctor? Give us a call!
Sources:
Foot Network: Hasselback Sweet Potatoes
https://www.foodnetwork.com/recipes/food-network-kitchen/hasselback-sweet-potatoes-recipe-2106932
American Optometric Association: Diet and Nutrition
https://www.aoa.org/healthy-eyes/caring-for-your-eyes/diet-and-nutrition
U.S. Department of Agriculture: Safe Minimal Internal Temperature Chart
https://www.fsis.usda.gov/food-safety/safe-food-handling-and-preparation/food-safety-basics/safe-temperature-chart